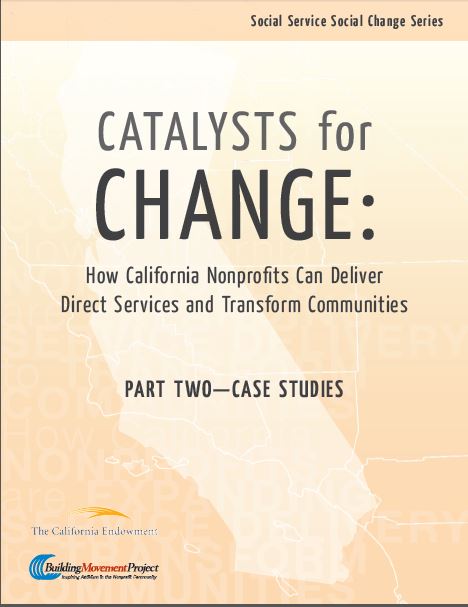 Catalysts for Change: How California Nonprofits Can Deliver Direct Services and Transform Communities (CASE STUDIES)
With the support of The California Endowment, the Building Movement Project surveyed over 450 California-based nonprofit direct service providers to explore whether they are integrating social change activities into their work.  Part Two of Catalysts for Change offers five in-depth case studies of California-based health and social service providers that are engaging in non-service activities to address systemic issues – including poverty, inequality, and health disparities – as well as building the voice and power of their constituents. The case studies illustrate and highlight many of the concepts explored in Part One of Catalysts for Change and they give readers the opportunity to delve more deeply into the work of different organizations that are engaged in direct service delivery and other change-oriented activities.
To read Part One: Report of Catalysts for Change, click here.
---