Learning Circles in Culture Change: Why Use It?
This paper gives clear, basic information about the purpose of learning circles. It includes tips for the facilitator, logistics and suggested ground rules. It also offers questions (on the topic) for learning at different developmental stages of the group. Questions can be customized for other groups and topics.
---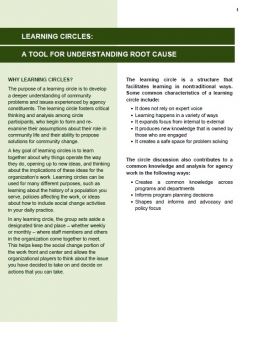 Learning Circles for Root Cause Analysis
This handout from BMP offers information and a process to engage staff and constituent partners in learning circles focused on root cause analysis. It describes how to organize the leaning circle, set it up for success and provides tips for the facilitator.
The purpose of a learning circle is to develop a deeper understanding of community problems and issues experienced by agency constituents. The learning circle fosters critical thinking and analysis among circle participants, who begin to form and re-examine their assumptions about their role in community life and their ability to propose solutions for community change.
---
---