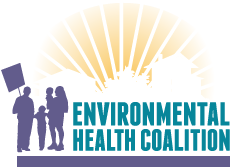 SALTA Leadership Training
SALTA (Salud Ambiental Lideres Tomando Accion – Environmental Health, Leaders Taking Action) is a web-based, interactive leadership development curriculum that provides community leaders with skill-building training in community organizing, policy advocacy, building power, community health, environmental justice and effective communication.
SALTA is a key component to ensuring that EHC achieves our core mission. More than education, SALTA is integrated with EHC's organizing and advocacy efforts to achieve environmental and social justice.
SALTA programs represent the organic educational efforts of the different campaigns, teams, leaders, and staff that make up EHC and were designed specifically for our leaders based on our local efforts. We began SALTA trainings in 1996, and now more than 2,000 individuals have been trained.
Developed and field tested by EHC staff and leaders during the past 15 years, SALTA uses a popular education approach that makes the training inclusive and accessible to all participants. Trainings are based on the knowledge, skills and real-world experiences of EHC staff, leaders and training participants.
Popular education, which has varying interpretations, is best defined by the practice where participants share their own understanding and feelings about a specific topic or issue and that understanding and feelings are considered valid. The idea of popular education (often described as "education for critical consciousness") as a teaching methodology came from a Brazilian educator and writer named Paulo Freire, who was writing in the context of literacy education for poor and politically disempowered people in his country. It's different from formal education (in schools, for example) and informal education (learning by living) in that it is a process which aims to empower people who feel marginalized socially and politically to take control of their own learning and to effect social change.
The SALTA sessions improve participants' sense of belonging to a community as participants and stakeholders of their societies. They begin to see themselves as empowered members who can make change.
---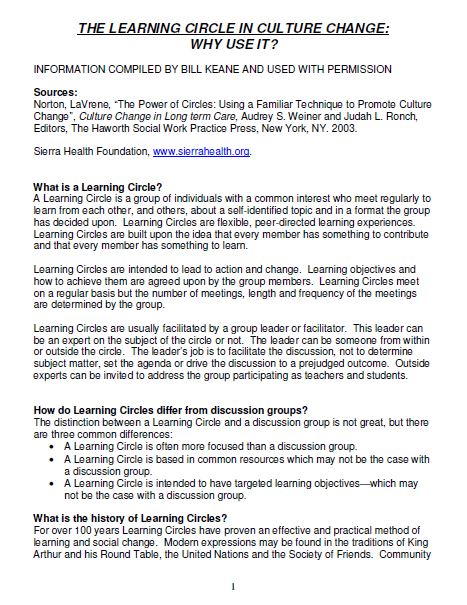 Learning Circles in Culture Change: Why Use It?
This paper gives clear, basic information about the purpose of learning circles. It includes tips for the facilitator, logistics and suggested ground rules. It also offers questions (on the topic) for learning at different developmental stages of the group. Questions can be customized for other groups and topics.
---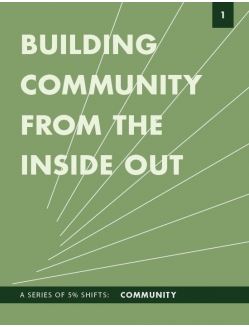 Building Community from the Inside Out
This report includes two case studies of community building efforts by nonprofit organizations in Detroit and New York City. The two cases profiled here focus on staff and clients, but organizations around the country are innovating to build a sense of community with volunteers and boards as well. Organizations who find inspiration in these examples and new insights from the tools and discussion questions are encouraged to find and develop their own practices.
---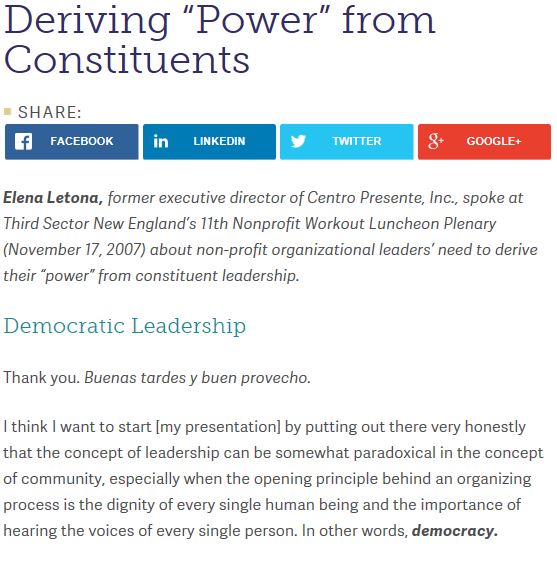 ---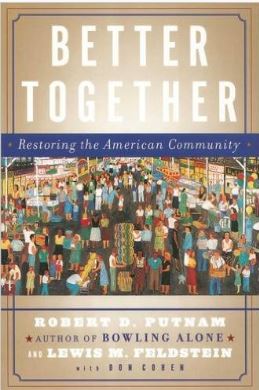 Better Together
This website is the portal to "Better Together", the 2000 report that identified America's civic apathy and ways to revitalize it. There are links to the book, "Bowling Alone", which describes how isolated members of our society have become, as well as a social capital primer, research and measurement tools.
---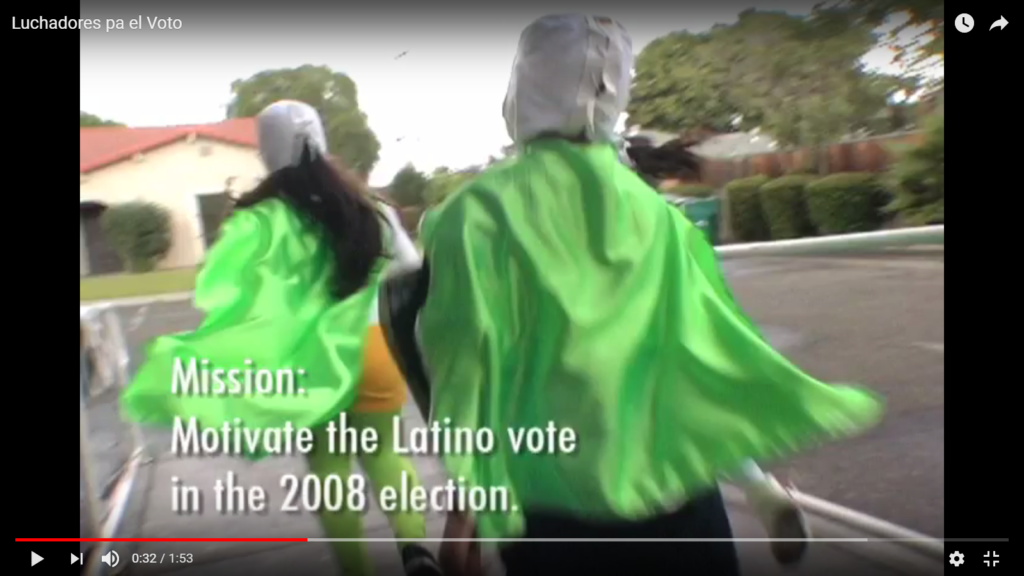 Luchadores pa el Voto
This video shows how members of a small community used the strength of its culture to address issues of voter capacity and civic apathy.
---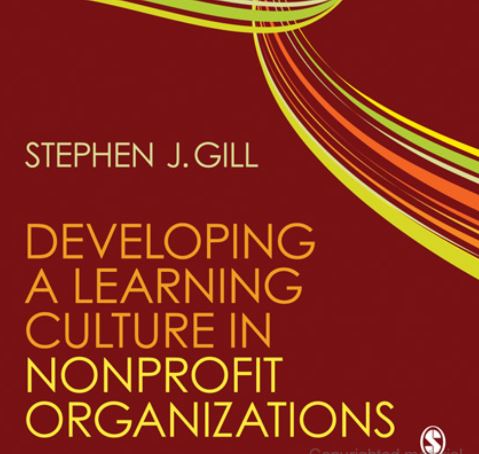 Developing a Learning Culture in Nonprofit Organizations
How can today's nonprofits demonstrate effective use of funds? How can they motivate employees and volunteers and combat burnout and high turnover? How can they ensure that they are performing in accordance with their mission and purpose?
Author Stephen J. Gill answers these questions and more in "Developing a Learning Culture in Nonprofit Organizations". Filled with practical tips and tools, the book shows students and managers of human services, arts, education, civic, and environmental agencies how to implement a learning culture with individuals, teams, the organization as a whole, and the larger community.
---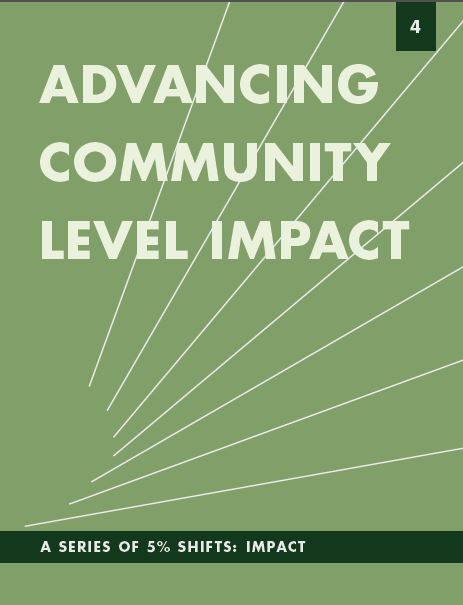 Advancing Community Level Impact
This report examines how two organizations developed and executed strategies that advanced their commitment to bridge the service-organizing "divide" by thinking beyond individual needs to address problems at a community level.
---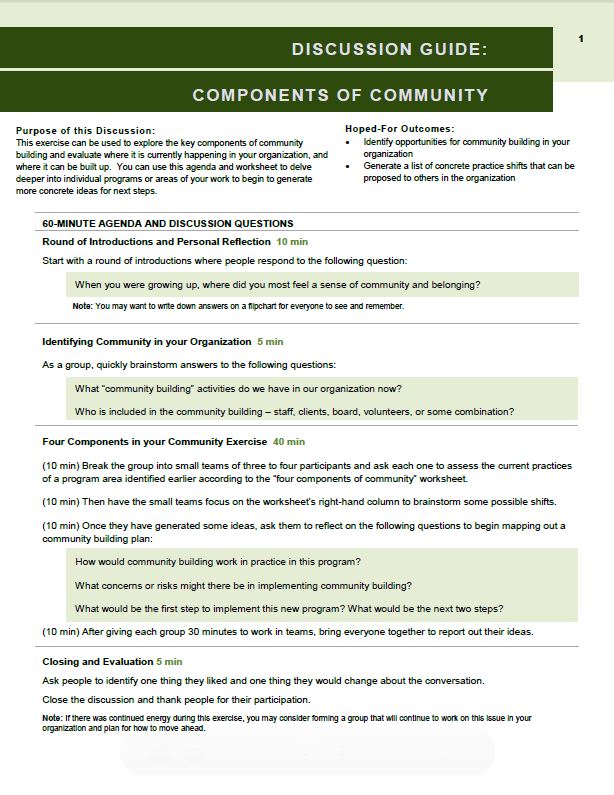 Components of Community
This guide helps organizations explore the key components of community building, evaluate how community building is currently taking place in the organization, and opportunities to expand community building.
---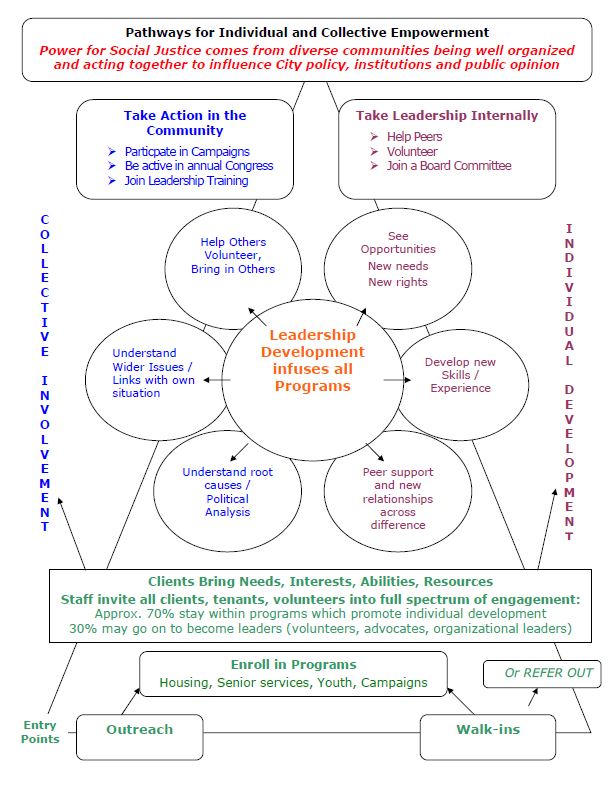 Pathways for Individual and Collective Empowerment
This detailed diagram illustrates how collective involvement and individual development empower social justice actions within a community. It can be used with the organization to measure change across a spectrum to increase understanding of the forces that are driving change and where efforts need to be focused.
---