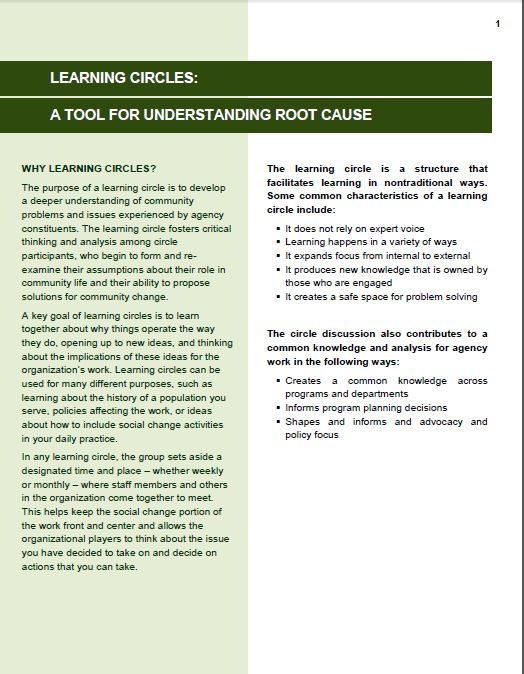 Learning Circles for Root Cause Analysis
This handout from BMP offers information and a process to engage staff and constituent partners in learning circles focused on root cause analysis. It describes how to organize the leaning circle, set it up for success and provides tips for the facilitator.
The purpose of a learning circle is to develop a deeper understanding of community problems and issues experienced by agency constituents. The learning circle fosters critical thinking and analysis among circle participants, who begin to form and re-examine their assumptions about their role in community life and their ability to propose solutions for community change.
---
Evaluation for Strategic Learning
This paper makes the case for the value of using evaluation to inform strategic learning. Organizations that are set up for learning will make the best use of this type of evaluation approach.
---
The 5th Discipline
In 1990, Peter Senge published "The Fifth Discipline" (later followed by "The Fifth Discipline Fieldbook: Strategies and Tools for Building a Learning Organization" in 1994). His books pulled together his extensive research into what different organisations do to build learning capacity – and why some organisations use learning better than others. This link to the Change Forum provides a summary of the book's content and access to the book.
---