Evaluating Coalitions and Networks: frameworks, needs, and opportunities
Evaluators have developed an impressive array of approaches, frameworks, and tools to support both coalitions/networks and their funders. The report explores these developments, and points to challenges and opportunities that remain in efforts to assess the effectiveness and impact of coalitions/networks.
This review is for coalitions and networks that are considering embarking on evaluation. It begins with what makes coalitions and networks different from standalone organizations, and the implications for evaluation. It then reviews five selected evaluation frameworks, highlighting their advantages, limitations, and applicability. Finally, it offers a set of lessons and opportunities related to coalition/network evaluation based on real-life experiences, along with insights for funders on how best to support evaluation of the coalitions/networks they support.
---
Evidence of Change: Exploring Civic Engagement Evaluation
Building Movement, the Alliance and the Ms.Foundation were all part of the W.K. Kellogg Foundation's Civic Engagement Learning Year
in 2008. As part of the project, groups who formed partnerships were eligible for small Connect Grants. The three groups received a grant to hold a summit with practitioners, researchers, intermediaries and funders to look at civic engagement impact measurement and dialogue with other organizations.
This report presents a brief summary of the key findings that came out of the Civic Engagement Evaluation Summit. It also examines how organizations currently view their relationship with impact measurement. It then ends with a set of recommendations for how to increase the nonprofit sector's capacity to respond to the increasing need for tools to measure the impact of civic engagement and social change work.
---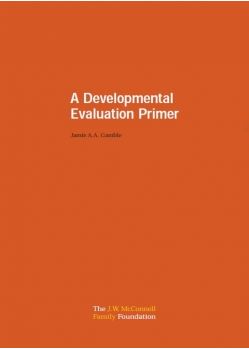 A Developmental Evaluation Primer
This tool offers a clear, concise introduction to the evaluation framework known as Developmental Evaluation, developed and popularized by researcher Michael Quinn Patton.
---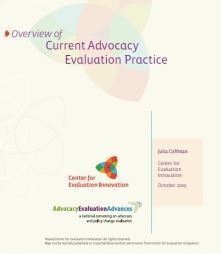 Overview of Current Advocacy Evaluation Practice
This brief offers an overview of current practice in the new and now rapidly growing field of advocacy evaluation. It highlights the kinds of approaches being used, offers specific examples of how they are being used and who is using them, and identifies the advantages and disadvantages of each approach.
---
Evaluation for Strategic Learning
This paper makes the case for the value of using evaluation to inform strategic learning. Organizations that are set up for learning will make the best use of this type of evaluation approach.
---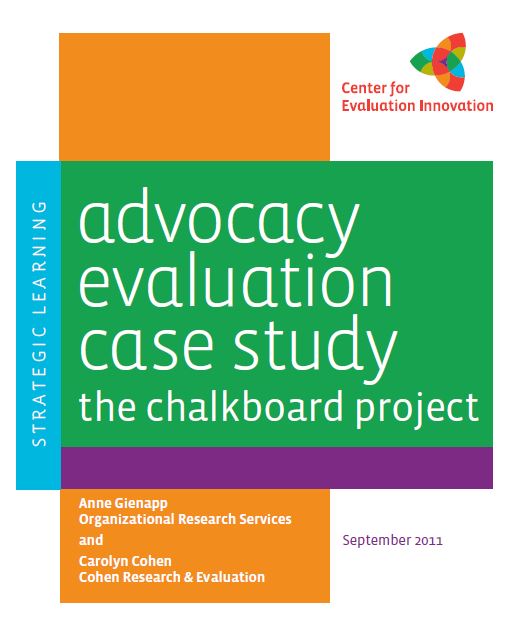 ---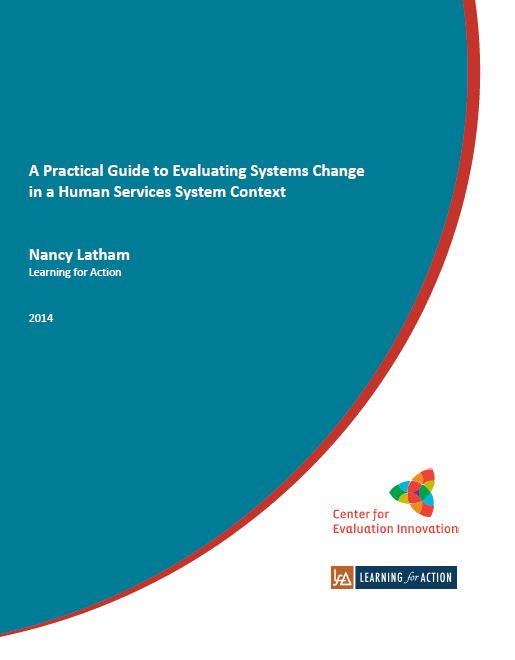 ---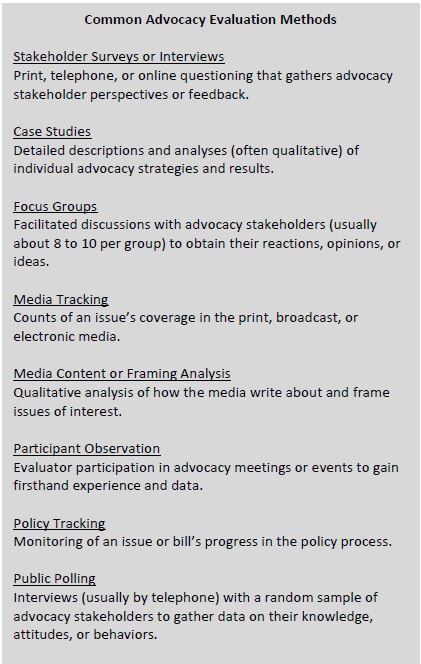 Unique Methods in Advocacy Evaluation
This brief describes four methods that were developed to respond to the unique challenges of measuring advocacy. Included are step-by-step instructions for use, rating scales, and sample questions that can guide evaluation.
---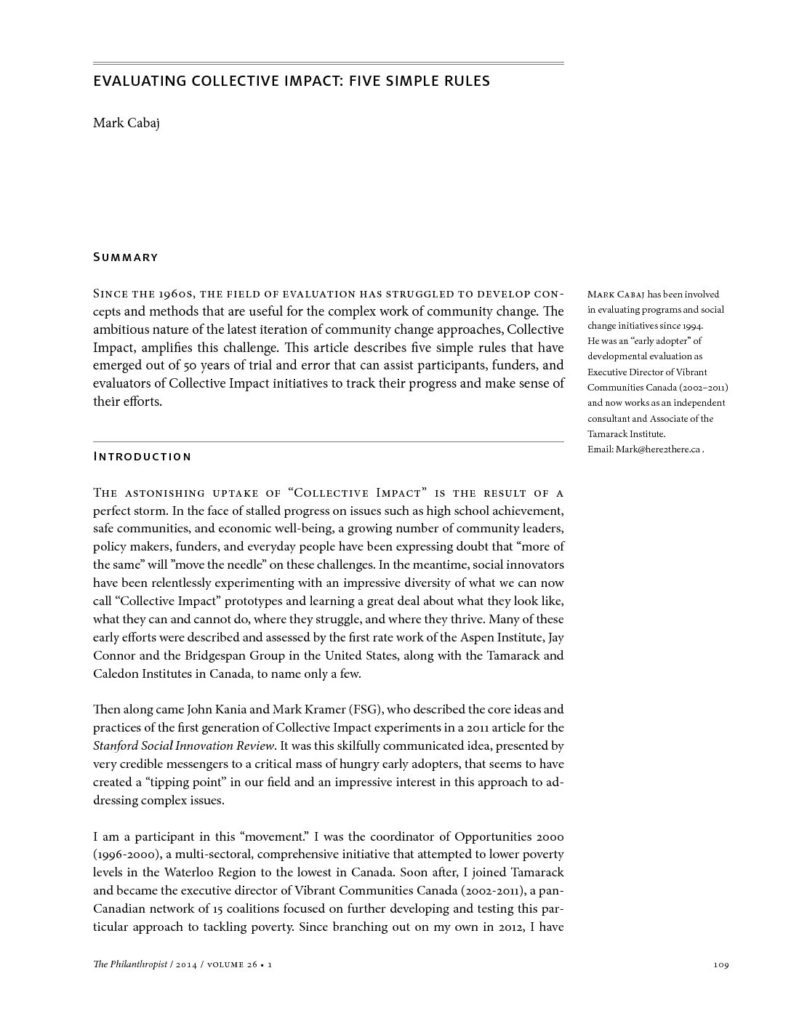 Evaluating Collective Impact: Five Simple Rules
Download this article to learn the five simple rules that that can assist participants, funders, and evaluators of collective impact initiatives to track their progress and make sense of their efforts. Downloading requires signing up to join the CIF, which is free and which we recommend.
---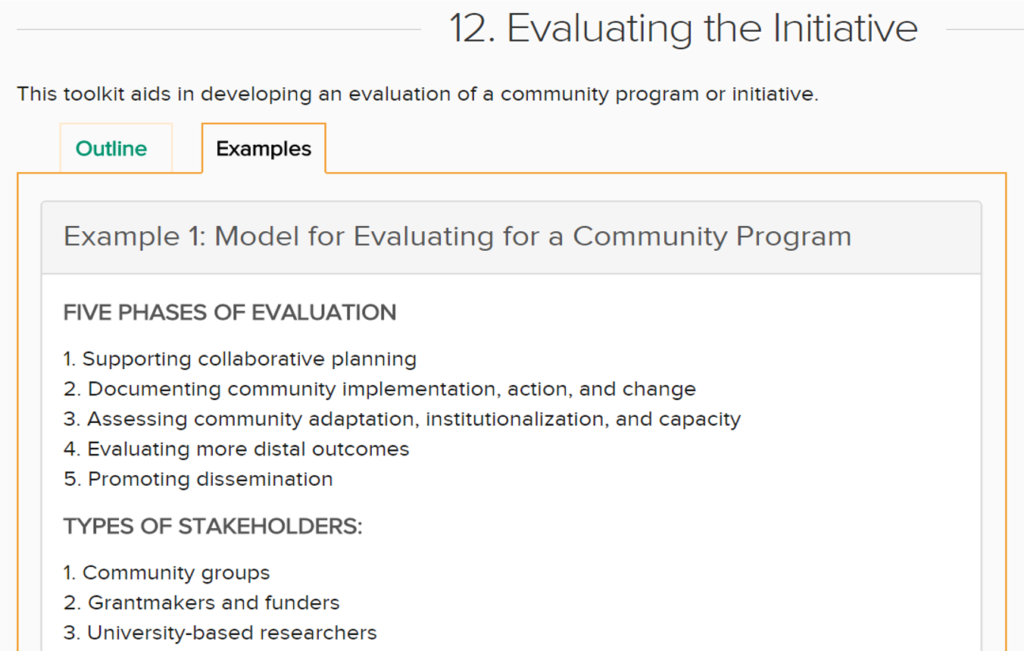 Model for Evaluating a Community Program
This example is a model for evaluating a community program or initiative. It walks through phases of evaluation, types of stakeholders, and steps to developing an evaluation plan.
---