Evaluating Coalitions and Networks: frameworks, needs, and opportunities
Evaluators have developed an impressive array of approaches, frameworks, and tools to support both coalitions/networks and their funders. The report explores these developments, and points to challenges and opportunities that remain in efforts to assess the effectiveness and impact of coalitions/networks.
This review is for coalitions and networks that are considering embarking on evaluation. It begins with what makes coalitions and networks different from standalone organizations, and the implications for evaluation. It then reviews five selected evaluation frameworks, highlighting their advantages, limitations, and applicability. Finally, it offers a set of lessons and opportunities related to coalition/network evaluation based on real-life experiences, along with insights for funders on how best to support evaluation of the coalitions/networks they support.
---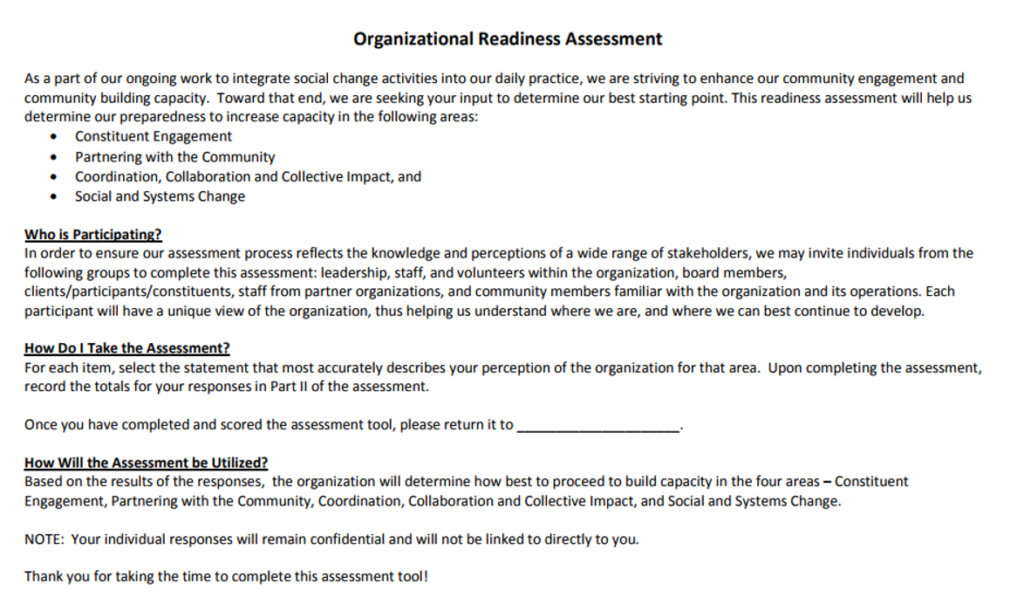 Organizational Readiness Assessment
The Organizational Readiness Assessment is designed as a tool to help organizations explore the status of their vision and mission, their relationship to staff, partners and constituents, and their leadership approach as part of an organizational culture conducive to social change efforts.
---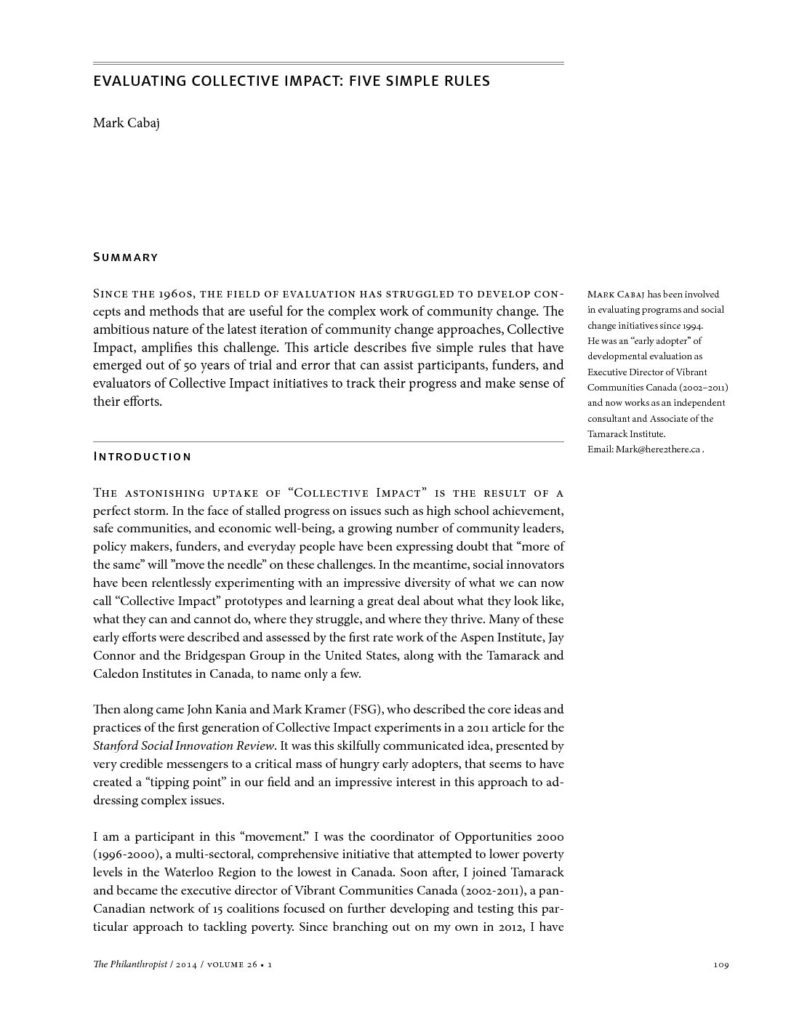 Evaluating Collective Impact: Five Simple Rules
Download this article to learn the five simple rules that that can assist participants, funders, and evaluators of collective impact initiatives to track their progress and make sense of their efforts. Downloading requires signing up to join the CIF, which is free and which we recommend.
---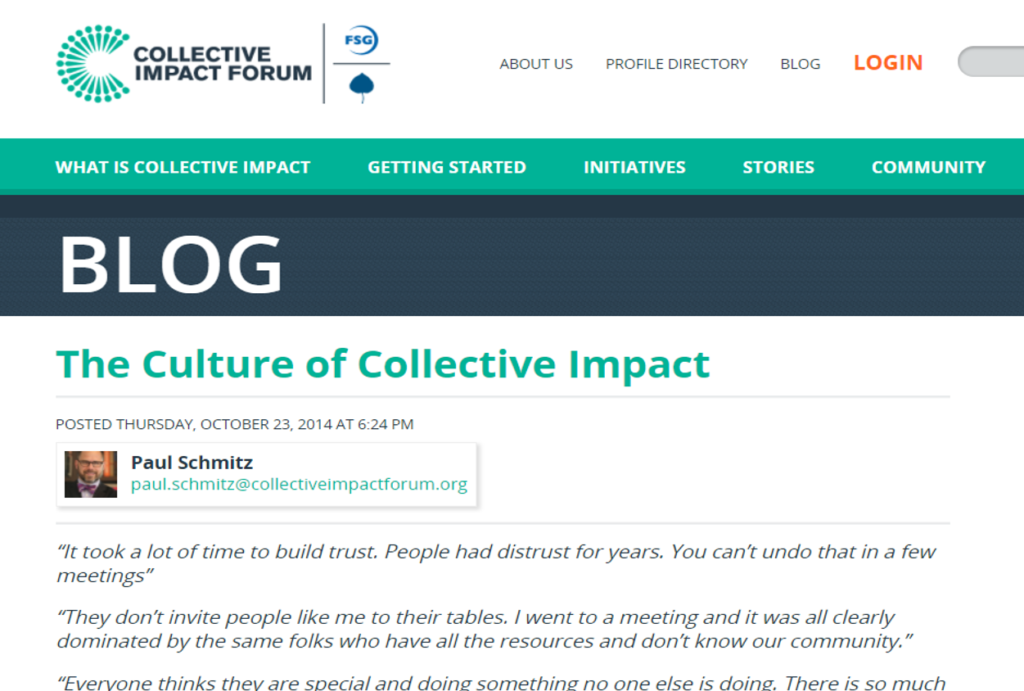 ---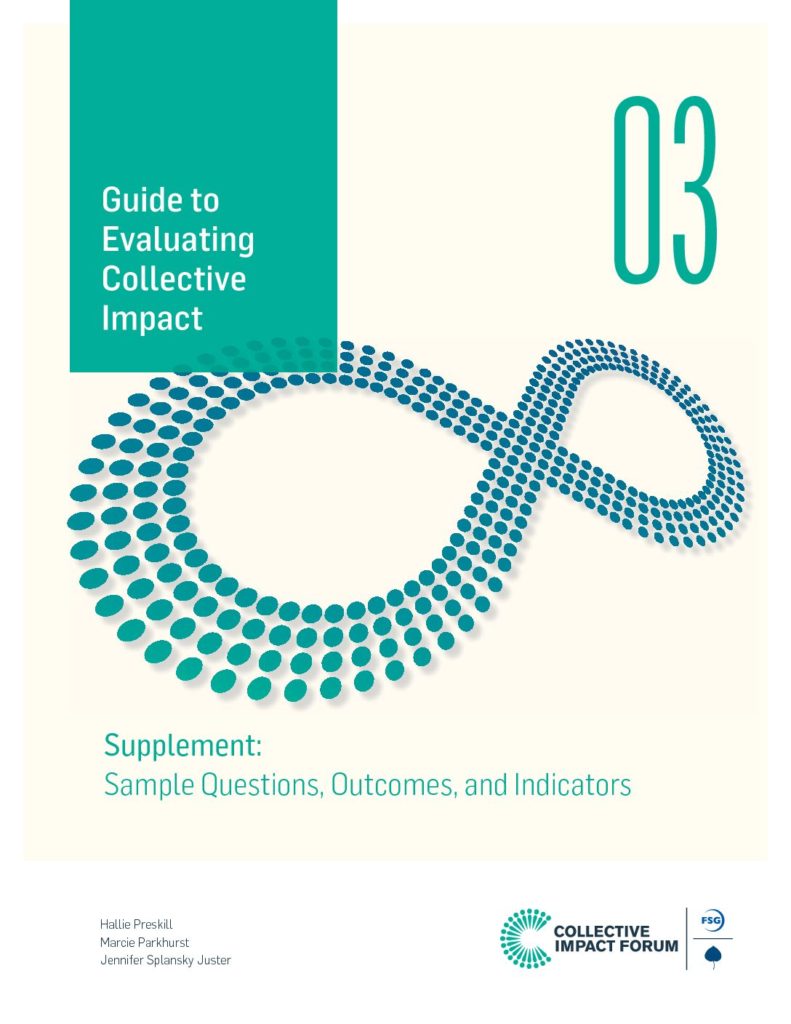 Guide to Evaluating Collective Impact
Follow this link to find the "Guide to Evaluating Collective Impact" report and a supplement with sample questions, outcomes, and indicators. Accessing this resource requires you to join FSG, which is free, and which we recommend.
---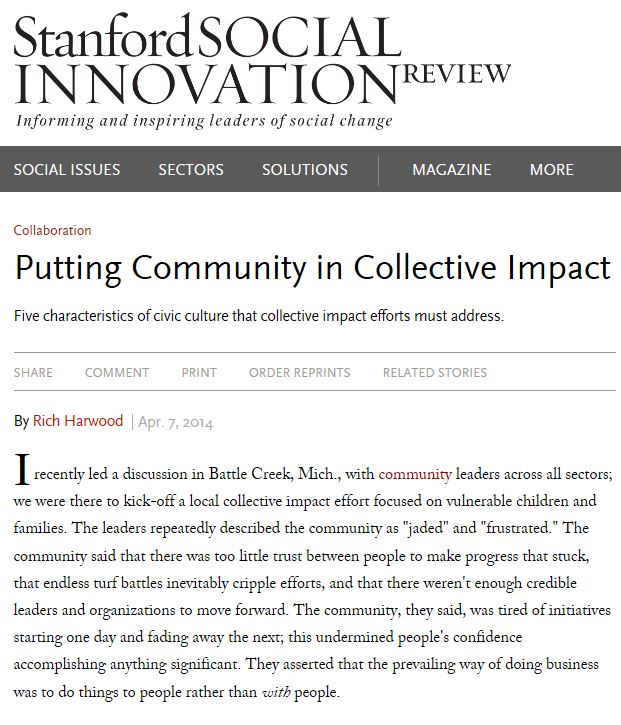 Putting Community in Collective Impact
Published in the Stanford Social Innovation Review and written by Richard C. Harwood, the founder and president of The Harwood Institute for Public Innovation, this paper makes the case for including community in cross-sector, high impact efforts from the perspective of Collective Impact. It includes questions for consideration and could be used to spark a goal setting session.
---