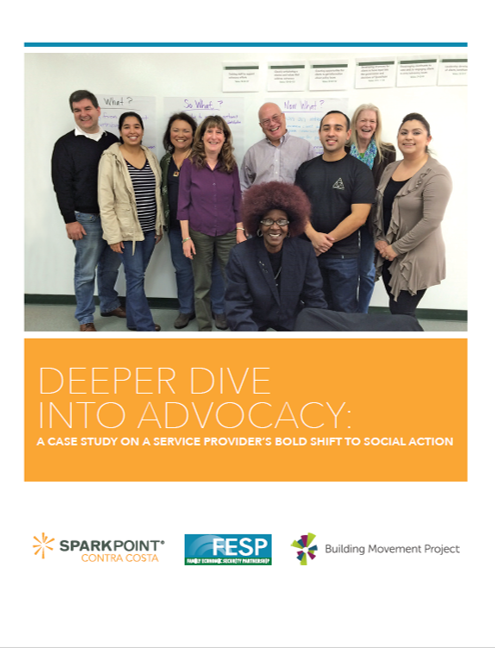 Deeper Dive into Advocacy: A Case Study on a Service Provider's Bold Shift to Social Action
Family Economic Security Partnership (FESP), SparkPoint Contra Costa, and the Building Movement Project engaged in a six month process to assess SparkPoint Contra Costa's interest and capacity to engage in policy advocacy. The resulting case study presents how SparkPoint Contra Costa, a direct service organization, built on its strength as an advocate for individuals to begin advocating for policy and larger system issues. The information includes an overview of types of advocacy and tips and tools for other organizations interested in adding social change activities to their daily practice.
---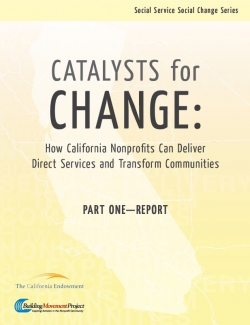 Catalysts for Change: How California Nonprofits Can Deliver Direct Services and Transform Communities (REPORT)
With the support of The California Endowment, the Building Movement Project surveyed over 450 California-based nonprofit direct service providers to explore whether they are integrating social change activities into their work. The survey results, which are discussed in Part One of Catalysts for Change, demonstrate that the language and activities of civic engagement, constituent voice, and social change are familiar to service providers in California, even if they may not be universally agreed upon. The range of activities beyond services reveals a clear need for more support and direction for service providers that are interested in addressing the systemic causes of problems facing clients. The report offers recommendations that speak to the roles funders, nonprofit technical assistance providers, intermediaries, academics, and others can play in helping organizations integrate social change-oriented efforts into their existing direct service work.
To read Part Two: Case Studies of Catalysts for Change, click here.
---