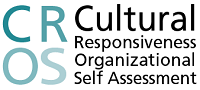 Cultural Responsiveness Organizational Tool (CROS)
A wide variety of cultural strengths exist within social service organizations. As our field strives to continuously enhance its cultural responsiveness while serving survivors, families, and communities, it is essential for organizations to recognize their own assets and challenges. The Cultural Responsiveness Organizational Tool (CROS) was created for this very purpose. Specially designed and validated for the social services field, this self-administered tool allows participants to:
Receive a customized snapshot depicting where their organization is on a developmental continuum of cultural responsiveness
Increase their understanding of their organizational strengths, as well as areas that may benefit from attention and improvement
Deepen their insight as to the way in which culturally-responsive practice is weaved throughout their organizations​​
Check out this video about the tool, too!
---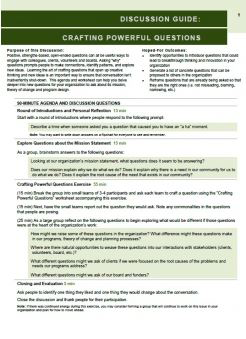 Crafting Powerful Questions
Positive, strengths-based, open-ended questions can all be useful ways to engage with colleagues, clients, volunteers and boards. Asking "why" questions prompts people to make connections, identify patterns, and explore new ideas. Learning the art of crafting questions that open up creative thinking and new ideas is an important way to ensure that conversation isn't inadvertently shut-down. This agenda and worksheet can help you delve deeper into new questions for your organization to ask about its mission, theory of change and program design.
---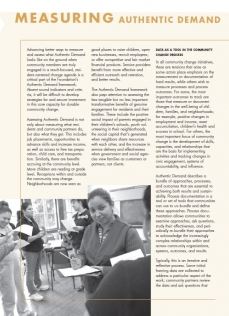 Measuring Authentic Demand
This excerpt on pages 16 to 25 from the Annie E. Casey Foundation's "Sustaining Neighborhood Change" report highlights the importance of data as a tool in the community change process. It also outlines a process for developing a data collection and analysis plan that aligns with the Authentic Demand framework described in the full report. (The report Sustaining Neighborhood Change: The Power of Resident Leadership, Social Networks, and Community Mobilization developed through the Making Connections Initiative of the Annie E. Casey Foundation).
---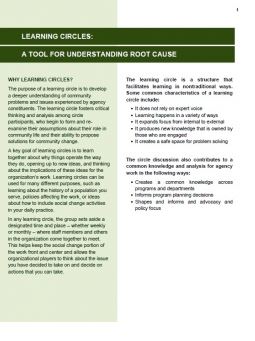 Learning Circles for Root Cause Analysis
This handout from BMP offers information and a process to engage staff and constituent partners in learning circles focused on root cause analysis. It describes how to organize the leaning circle, set it up for success and provides tips for the facilitator.
The purpose of a learning circle is to develop a deeper understanding of community problems and issues experienced by agency constituents. The learning circle fosters critical thinking and analysis among circle participants, who begin to form and re-examine their assumptions about their role in community life and their ability to propose solutions for community change.
---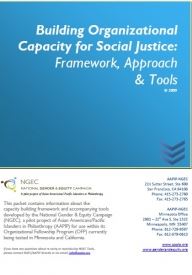 Building Organizational Capacity for Social Justice
Recognizing that much has been done in the general field of capacity building of the nonprofit sector, the National Gender and Equity Campaign (NGEC) began conducting extensive research to understand existing frameworks, tools and approaches in capacity building.  The transformation framework and accompanying tools within this publication highlight NGEC's intention to elevate the social justice movement by supporting the development of social justice organizations.
---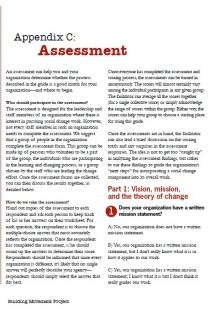 Assessment of Organization Readiness for Social Change
A seven-question, multiple-choice assessment, this tool helps help groups determine if the process described in "Social Service & Social Change: A Process Guide" is an appropriate match for their organization.  Based on the final score of the assessment, a basic analysis and starting point is suggested.
---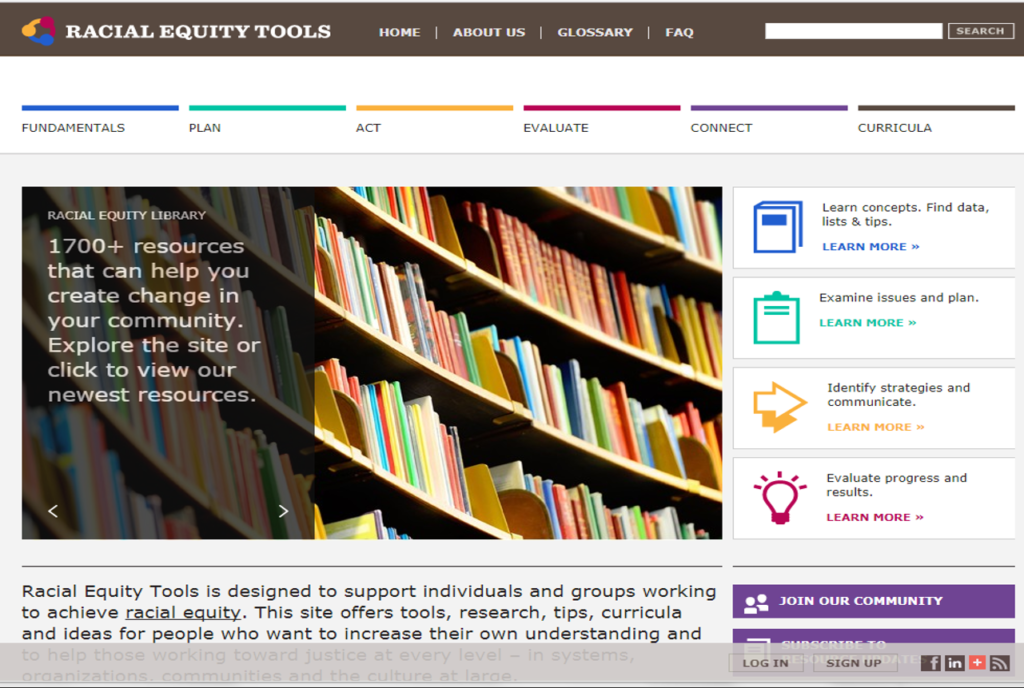 Racial Equity Tools
Racial Equity Tools is designed to support individuals and groups working to achieve racial equity. This site offers tools, research, tips, curricula and ideas for people who want to increase their own understanding and to help those working toward justice at every level – in systems, organizations, communities and the culture at large.
---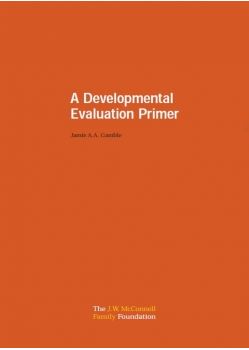 A Developmental Evaluation Primer
This tool offers a clear, concise introduction to the evaluation framework known as Developmental Evaluation, developed and popularized by researcher Michael Quinn Patton. 
---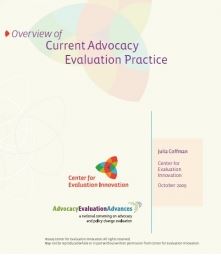 Overview of Current Advocacy Evaluation Practice
This brief offers an overview of current practice in the new and now rapidly growing field of advocacy evaluation. It highlights the kinds of approaches being used, offers specific examples of how they are being used and who is using them, and identifies the advantages and disadvantages of each approach.
---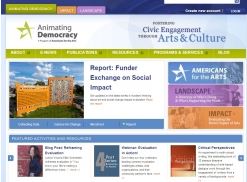 Animating Democracy | IMPACT
Animating Democracy, a program of Americans for the Arts, has an online storehouse of resources aimed at helping arts organizations evaluate the social impact of creative work that aims to make social change.  Although the site is intended for arts-focused organizations, many of the resources offered are applicable to the work of a wide variety of service agencies interested social change work.
---