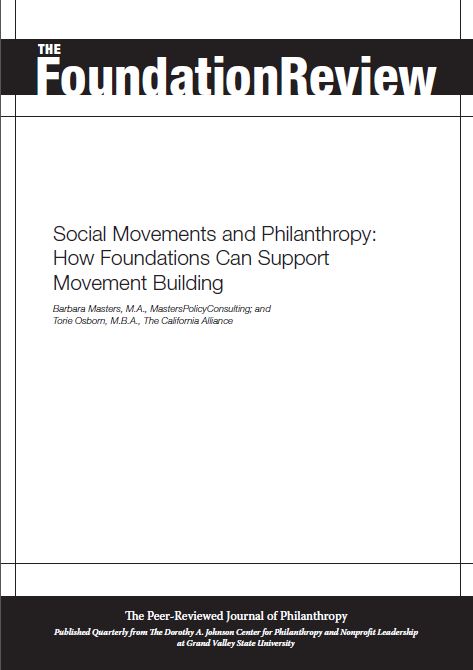 Social Movements and Philanthropy: How Foundations Can Support Movement Building
On page 17 of this report, social service organizations are identified as places that have not been organized to contribute to social change efforts. The author cites the Building Movement Project's Social Service and Social Change: A Process Guide (http://www.buildingmovement.org/blog/entry/22?news/entry/22) as a tool to increase engagement as well as noting other strategies for recruitment.
---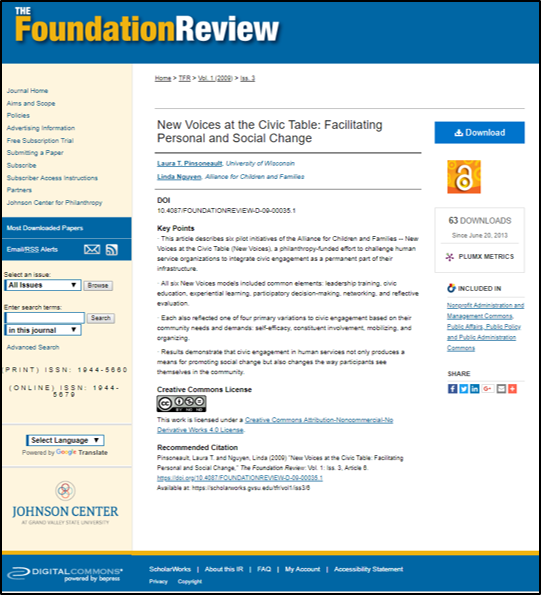 New Voices at the Civic Table: Facilitating Personal and Social Change
This article describes six pilot initiatives of the Alliance for Children and Families — New Voices at the Civic Table (New Voices), a philanthropy-funded effort to challenge human service organizations to integrate civic engagement as a permanent part of their infrastructure. All six New Voices models included common elements: leadership training, civic education, experiential learning, participatory decision-making, networking, and reflective evaluation. Each also reflected one of four primary variations to civic engagement based on their community needs and demands: self-efficacy, constituent involvement, mobilizing, and organizing. Results demonstrate that civic engagement in human services not only produces a means for promoting social change but also changes the way participants see themselves in the community.
---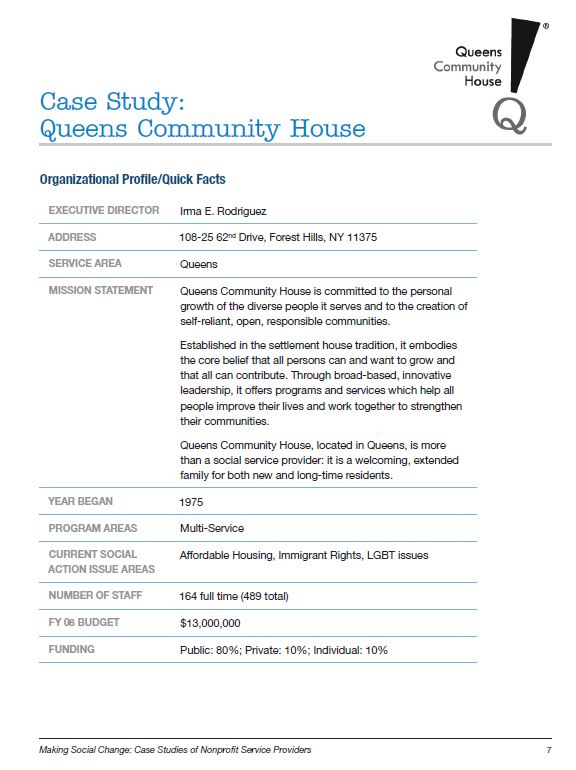 Queens Community House
This case study describes how Queens Community House in New York, fashioned after the settlement house tradition, offers services and programs to help individuals improve their situation and strengthen their community. It follows the story of Queens Community House from a service provider to a powerful community building organization.
---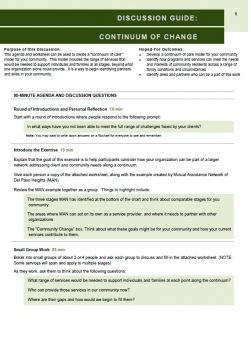 Continuum of Change
This agenda and worksheet can be used to create a "continuum of care" model for your community. This model includes the range of services that would be needed to support individuals and families at all stages, beyond what one organization alone could provide. It is a way to begin identifying partners and allies in your community.
---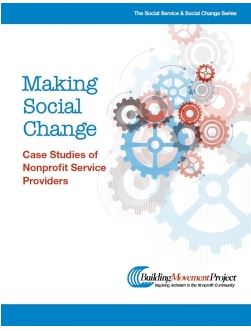 Making Social Change: Case Studies of Nonprofit Service Providers
Building Movement Project developed this set of case studies as a response to numerous requests from groups looking for real-life examples of the often-challenging process of incorporating social change models into social service work. These case studies, geared toward practitioners, board members, and funders interested in this work, are designed to complement one of our other landmark Building Movement publications: Social Service and Social Change: A Process Guide (2006).  The five case studies in this publication offer examples of organizations that are integrating social change activities into their work.
---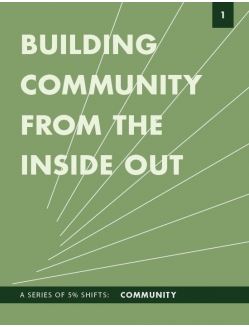 Building Community from the Inside Out
This report includes two case studies of community building efforts by nonprofit organizations in Detroit and New York City. The two cases profiled here focus on staff and clients, but organizations around the country are innovating to build a sense of community with volunteers and boards as well. Organizations who find inspiration in these examples and new insights from the tools and discussion questions are encouraged to find and develop their own practices.
---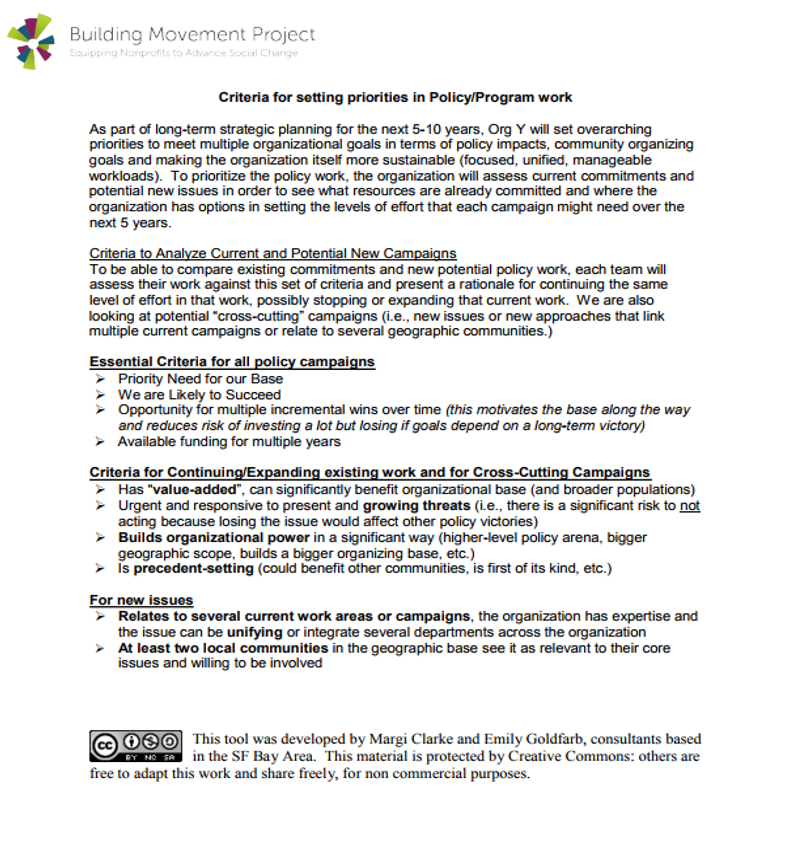 ---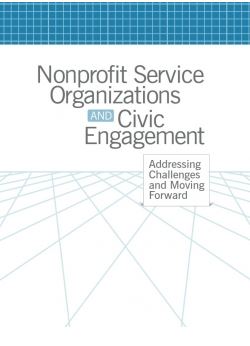 ---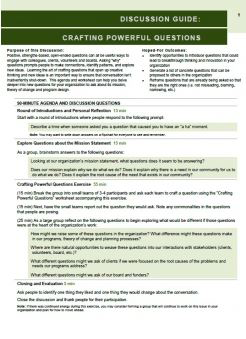 Crafting Powerful Questions
Positive, strengths-based, open-ended questions can all be useful ways to engage with colleagues, clients, volunteers and boards. Asking "why" questions prompts people to make connections, identify patterns, and explore new ideas. Learning the art of crafting questions that open up creative thinking and new ideas is an important way to ensure that conversation isn't inadvertently shut-down. This agenda and worksheet can help you delve deeper into new questions for your organization to ask about its mission, theory of change and program design.
---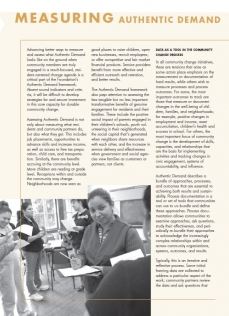 Measuring Authentic Demand
This excerpt on pages 16 to 25 from the Annie E. Casey Foundation's "Sustaining Neighborhood Change" report highlights the importance of data as a tool in the community change process. It also outlines a process for developing a data collection and analysis plan that aligns with the Authentic Demand framework described in the full report. (The report Sustaining Neighborhood Change: The Power of Resident Leadership, Social Networks, and Community Mobilization developed through the Making Connections Initiative of the Annie E. Casey Foundation).
---