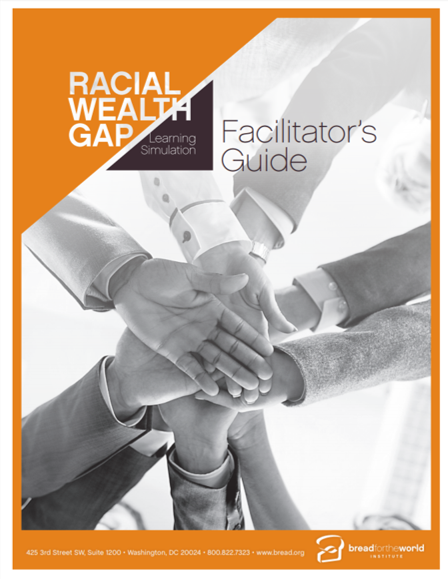 Racial Wealth Gap Learning Simulation
The simulation an interactive tool that helps people understand the connections among racial equity, hunger, poverty, and wealth. It is a good first step for people unaware of structural inequality, a support tool for those who want a deeper understanding of structural inequality, and a source of information for experts who want to know the quantifiable economic impact of each policy that has widened today's racial hunger, income, and wealth divides.
In the simulation, participants learn how federal policies created structural inequalities—property ownership and education are just two among many areas affected—and how these policies increase hunger and poverty in communities of color. The simulation guides participants to an understanding of why racial equity is so important to ending hunger and poverty in the United States. Our hope is that participants, in becoming more aware of structural inequality, can support policies that undo and/or reduce disparities.
Since the simulation emphasizes the importance of racial equity, it can be a helpful companion tool for churches, organizations, agencies, schools, and communities that have begun working on race and want to learn more about the role that public policy has had, over time, in creating structural divides based on race.
---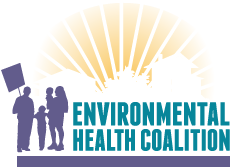 SALTA Leadership Training
SALTA (Salud Ambiental Lideres Tomando Accion – Environmental Health, Leaders Taking Action) is a web-based, interactive leadership development curriculum that provides community leaders with skill-building training in community organizing, policy advocacy, building power, community health, environmental justice and effective communication.
SALTA is a key component to ensuring that EHC achieves our core mission. More than education, SALTA is integrated with EHC's organizing and advocacy efforts to achieve environmental and social justice.
SALTA programs represent the organic educational efforts of the different campaigns, teams, leaders, and staff that make up EHC and were designed specifically for our leaders based on our local efforts. We began SALTA trainings in 1996, and now more than 2,000 individuals have been trained.
Developed and field tested by EHC staff and leaders during the past 15 years, SALTA uses a popular education approach that makes the training inclusive and accessible to all participants. Trainings are based on the knowledge, skills and real-world experiences of EHC staff, leaders and training participants.
Popular education, which has varying interpretations, is best defined by the practice where participants share their own understanding and feelings about a specific topic or issue and that understanding and feelings are considered valid. The idea of popular education (often described as "education for critical consciousness") as a teaching methodology came from a Brazilian educator and writer named Paulo Freire, who was writing in the context of literacy education for poor and politically disempowered people in his country. It's different from formal education (in schools, for example) and informal education (learning by living) in that it is a process which aims to empower people who feel marginalized socially and politically to take control of their own learning and to effect social change.
The SALTA sessions improve participants' sense of belonging to a community as participants and stakeholders of their societies. They begin to see themselves as empowered members who can make change.
---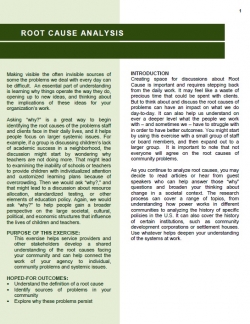 Root Cause Analysis
This exercise helps service providers and other stakeholders develop a shared understanding of the root causes facing your community. It can also help connect the work of your agency to individual and community problems, in addition to systemic issues.
---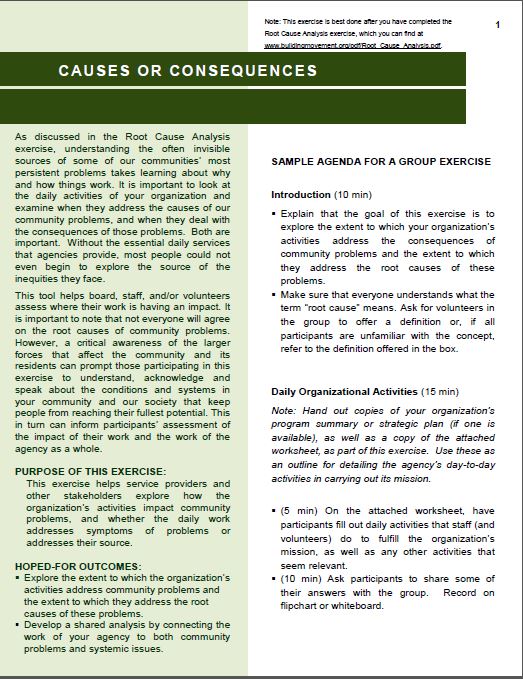 Causes or Consequences
These two activities are used to conduct a root cause analysis and to explore the causes and consequences of issues that staff and constituents deal with on a daily basis. The root cause analysis includes a handout for the discussion about "why" conditions exist. The causes and consequences handout helps organizations explore the focus of the impact of their work. Are they addressing the (root) causes of conditions or the consequences, which doesn't lead to changing conditions and often creates the "revolving door" of service provision.
---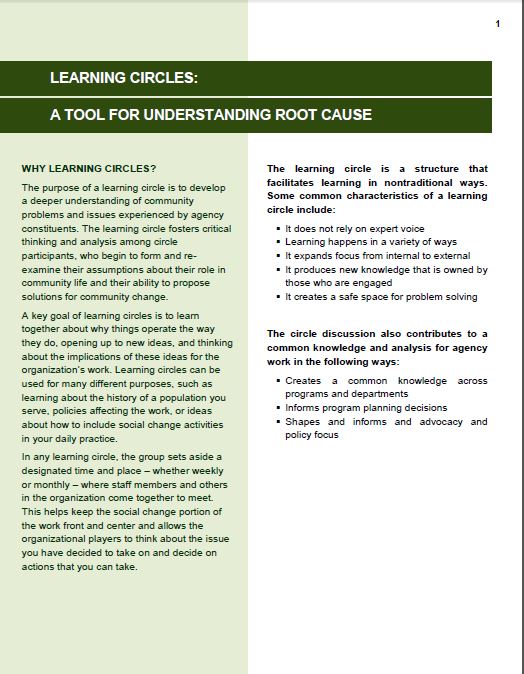 Learning Circles for Root Cause Analysis
This handout from BMP offers information and a process to engage staff and constituent partners in learning circles focused on root cause analysis. It describes how to organize the leaning circle, set it up for success and provides tips for the facilitator.
The purpose of a learning circle is to develop a deeper understanding of community problems and issues experienced by agency constituents. The learning circle fosters critical thinking and analysis among circle participants, who begin to form and re-examine their assumptions about their role in community life and their ability to propose solutions for community change.
---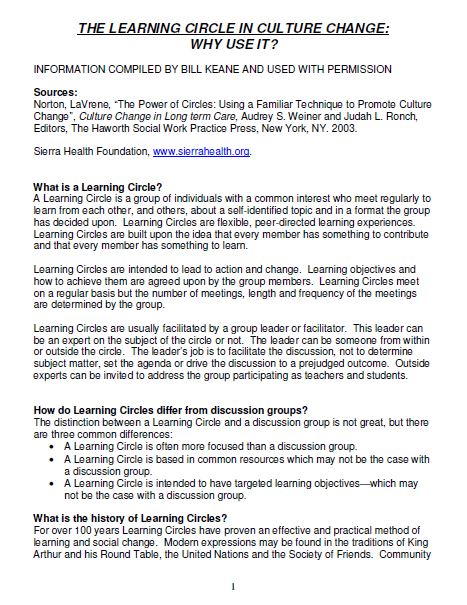 Learning Circles in Culture Change: Why Use It?
This paper gives clear, basic information about the purpose of learning circles. It includes tips for the facilitator, logistics and suggested ground rules. It also offers questions (on the topic) for learning at different developmental stages of the group. Questions can be customized for other groups and topics.
---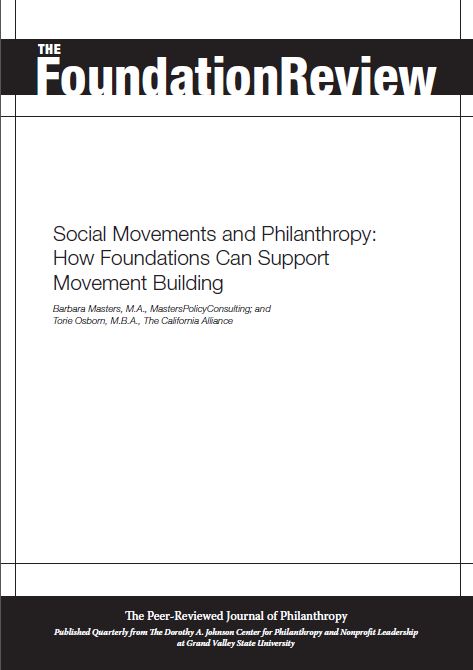 Social Movements and Philanthropy: How Foundations Can Support Movement Building
On page 17 of this report, social service organizations are identified as places that have not been organized to contribute to social change efforts. The author cites the Building Movement Project's Social Service and Social Change: A Process Guide (http://www.buildingmovement.org/blog/entry/22?news/entry/22) as a tool to increase engagement as well as noting other strategies for recruitment.
---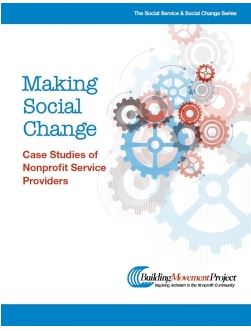 Making Social Change: Case Studies of Nonprofit Service Providers
Building Movement Project developed this set of case studies as a response to numerous requests from groups looking for real-life examples of the often-challenging process of incorporating social change models into social service work. These case studies, geared toward practitioners, board members, and funders interested in this work, are designed to complement one of our other landmark Building Movement publications: Social Service and Social Change: A Process Guide (2006).  The five case studies in this publication offer examples of organizations that are integrating social change activities into their work.
---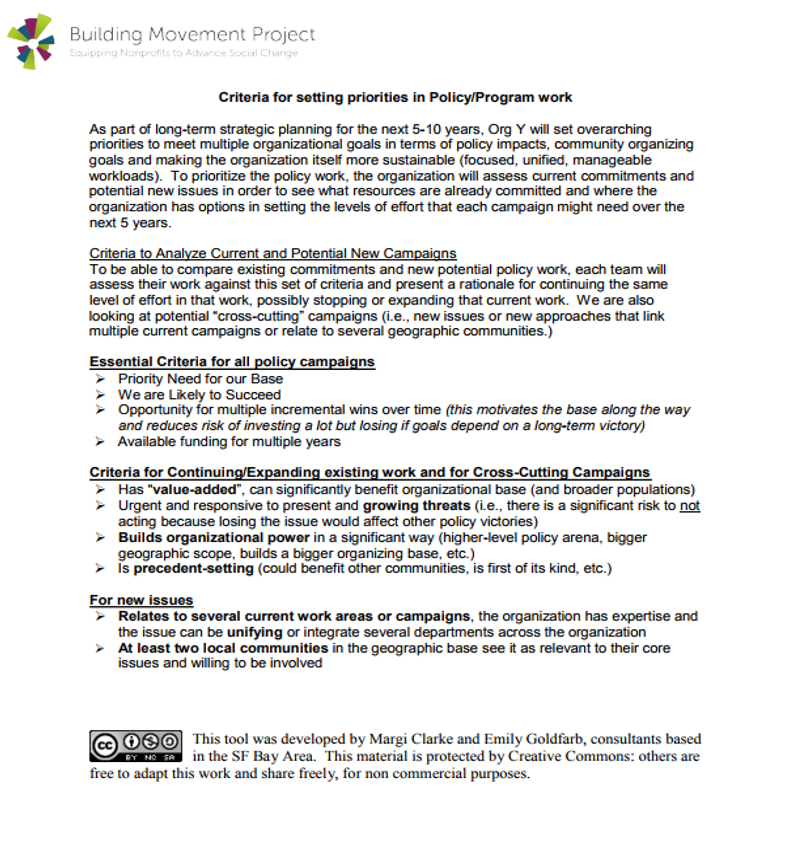 ---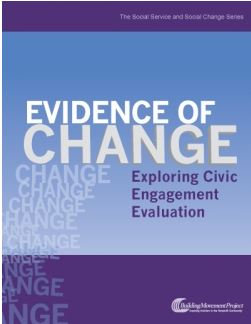 Evidence of Change: Exploring Civic Engagement Evaluation
Building Movement, the Alliance and the Ms.Foundation were all part of the W.K. Kellogg Foundation's Civic Engagement Learning Year
in 2008. As part of the project, groups who formed partnerships were eligible for small Connect Grants. The three groups received a grant to hold a summit with practitioners, researchers, intermediaries and funders to look at civic engagement impact measurement and dialogue with other organizations.
This report presents a brief summary of the key findings that came out of the Civic Engagement Evaluation Summit. It also examines how organizations currently view their relationship with impact measurement. It then ends with a set of recommendations for how to increase the nonprofit sector's capacity to respond to the increasing need for tools to measure the impact of civic engagement and social change work.
---