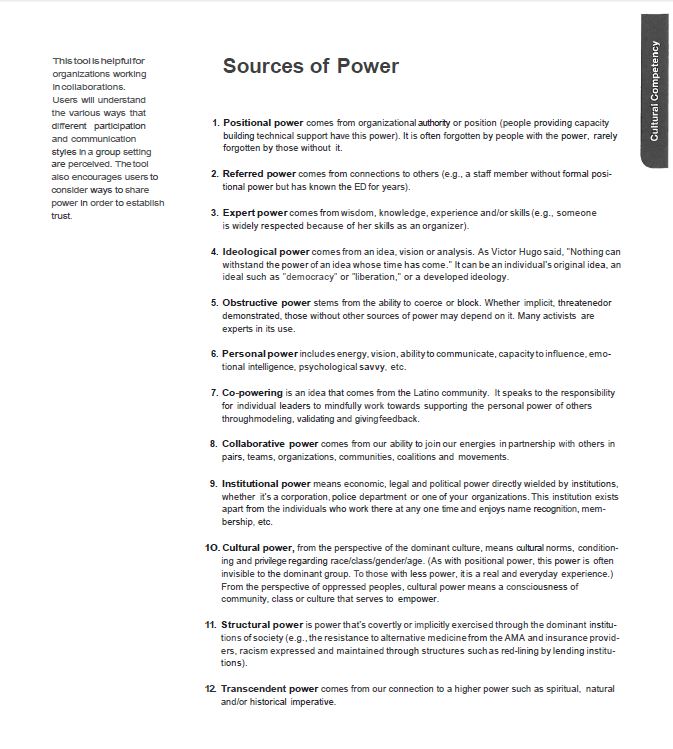 Sources of Power
This handout can be used with organizations working in partnerships. It is helpful to understand the different ways that participation and communication styles can be perceived in groups and encourages users to consider how to share power in order to establish trust.
---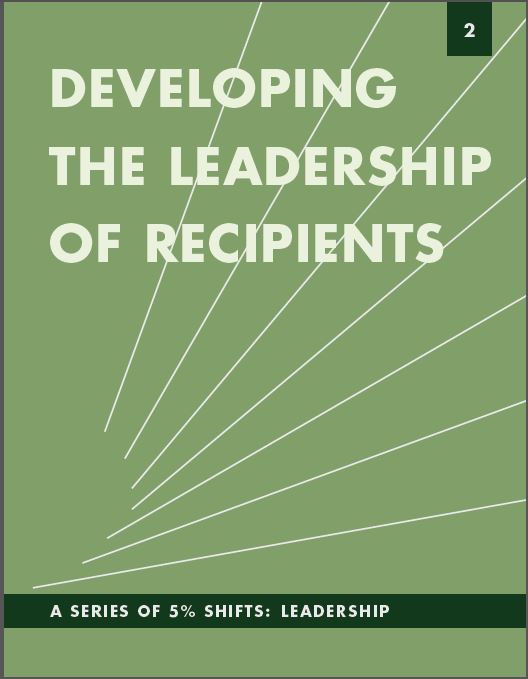 ---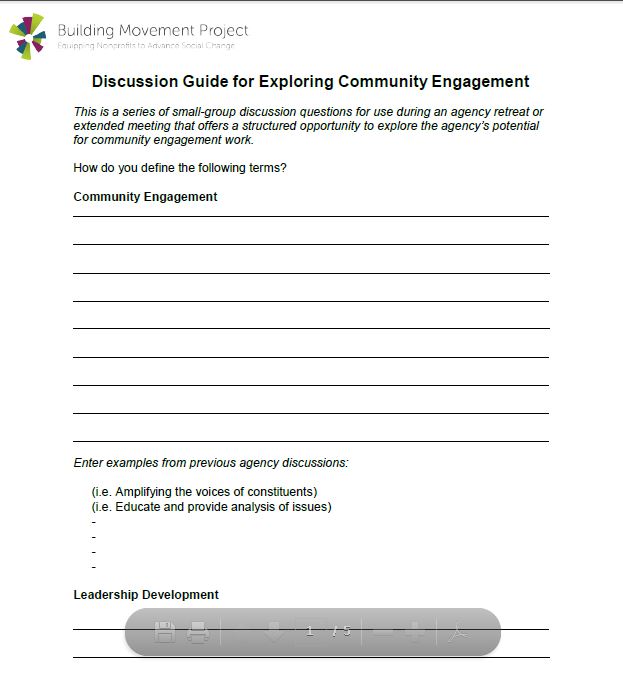 Exploring Community Engagement
This is a series of small-group discussion questions for use during an agency retreat or extended meeting that offers a structured opportunity to explore the agency's potential for community engagement work.
---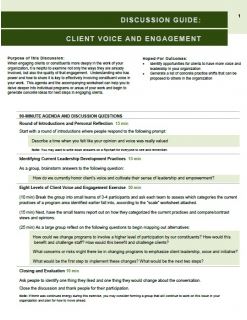 Client Voice and Engagement
This agenda and activity worksheet is designed to identify opportunities for constituents to have more voice and leadership in your organzation and to generate a list of concrete practice shifts that can be proposed to others in the organzation.
---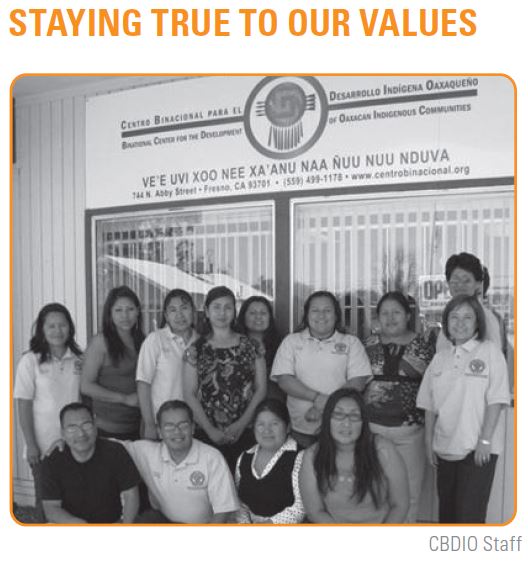 Shields for Families
This case study tells the story of Shields for Families in Los Angeles that actively integrates social change and service provision by building on the leadership capacity of their clients and staff. Shields creates many opportunities for learning, enagement, and social change efforts that are exemplary. Use this case study to learn from Shields and discuss what would work locally and how to move forward.
---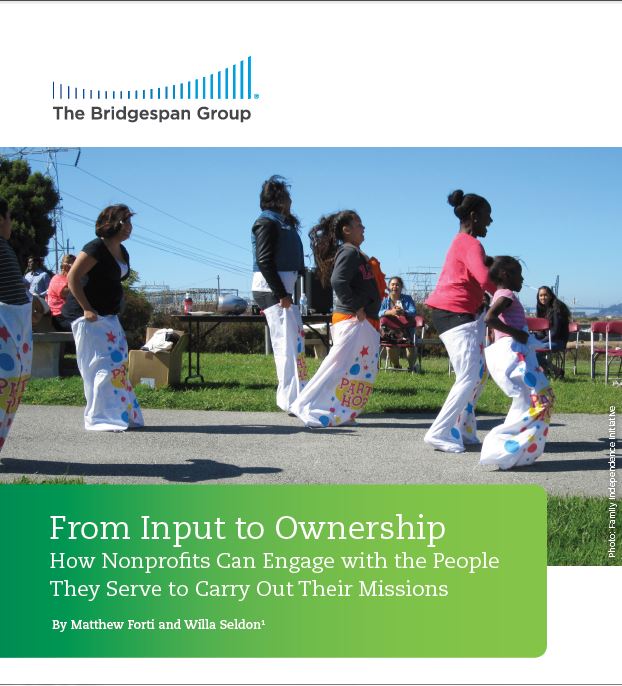 ---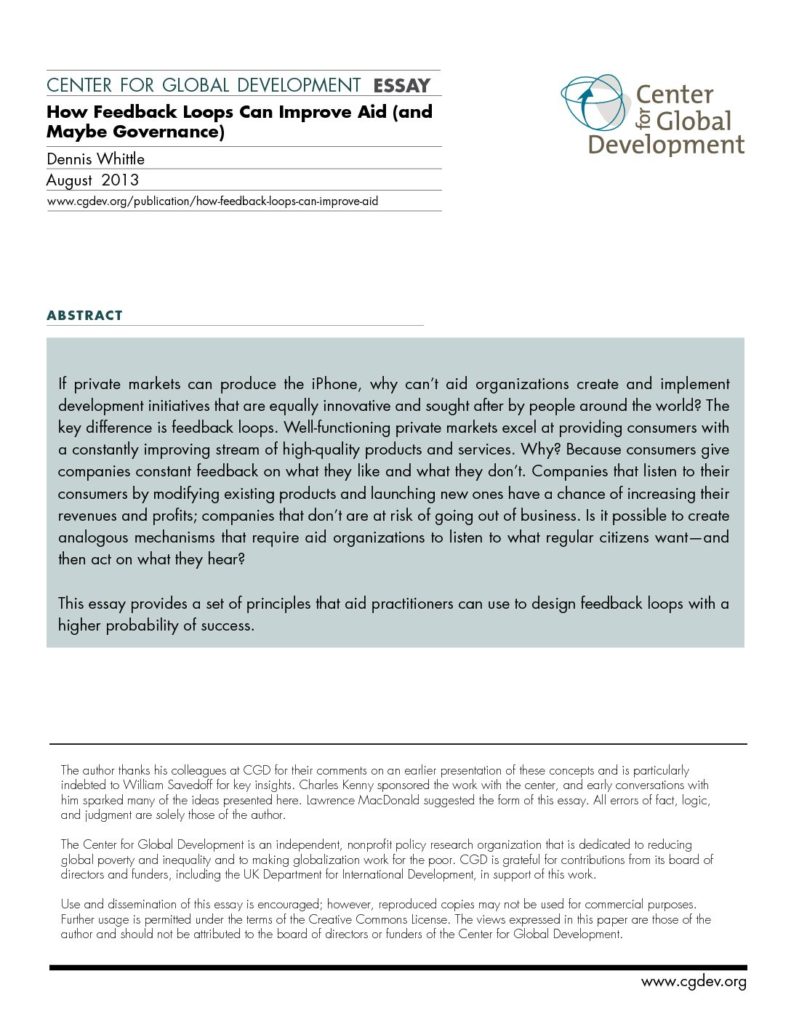 Creating Effective Feedback Loops
This essay provides a set of principles that practitioners can use to design feedback loops with a higher probability of success. It suggests that effective efforts benefit from getting constant feedback about what works and makes the case that constituent (or consumer) voice is critical to design systems that are effective and responsive.
---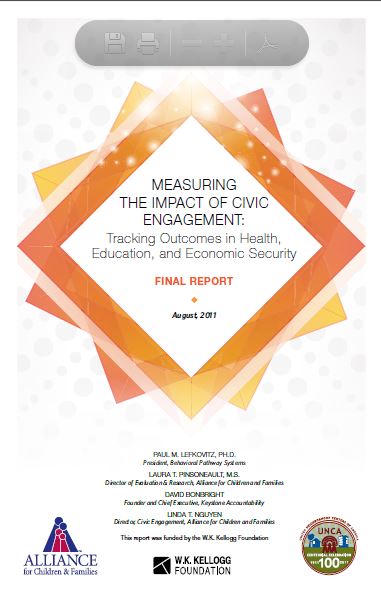 Measuring the Impact of Civic Engagement
This report provides an overview of a process to develop tools to measure the impact of civic engagement practices in human services. The Civic Engagement Measurements System (CEMS) is an inter-related set of tools that are believed to represent a promising new approach to the measurement of outcomes and impacts of civic engagement.
---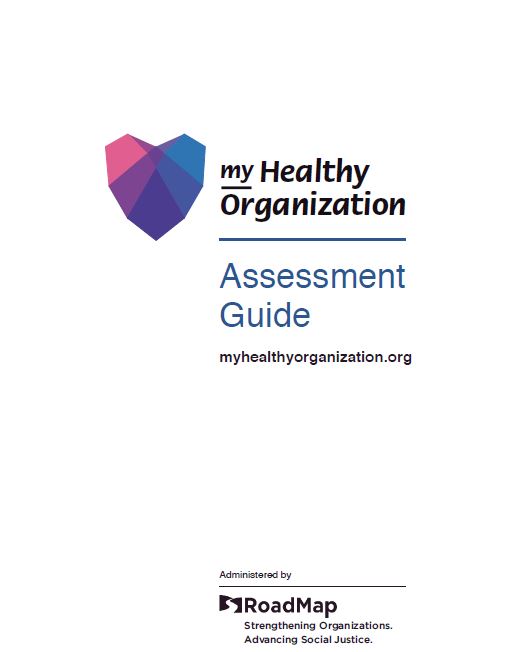 My Healthy Organization Assessment Guide
This guide explains how to use the My Healthy Organization Tool (MHO Assessment Tool). The guide describes:
1. Why and when to do an assessment.
2. How to implement the process and use the assessment tool, including risks
and challenges
3. How to use the process and results to improve your organization
Nine areas are identified as important building blocks of movement capacity of nonprofit organizations: Vision, Principles, Learning and Reflecting, Issues of Race and Power, Work Across Boundaries, Work Across Generations, Constituent Involvement, Structure, and Funding.
---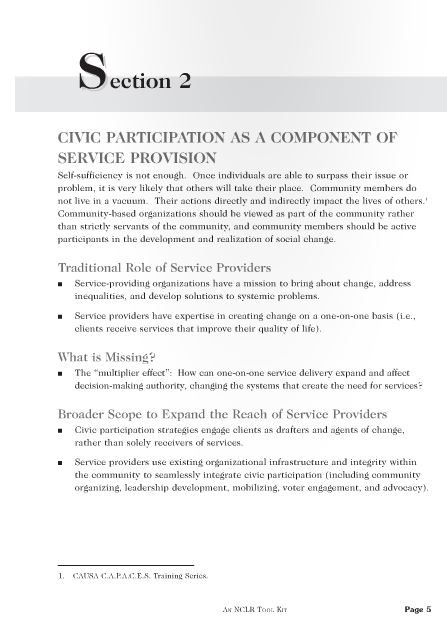 Civic Participation as a Component of Service Provision
This is section 2 of the "Integrating Civic Participation Strategies into Service Delivery Organizations" Toolkit, which was created by the National Council of La Raza (NCLR) in order to create a "participation continuum" that links constituencies to a variety of civic opportunities such as citizenship promotion and engaging in issues. This section focuses on expanding the traditional role of service providers to affect decision-making authority, changing the systems that create the need for services.
---