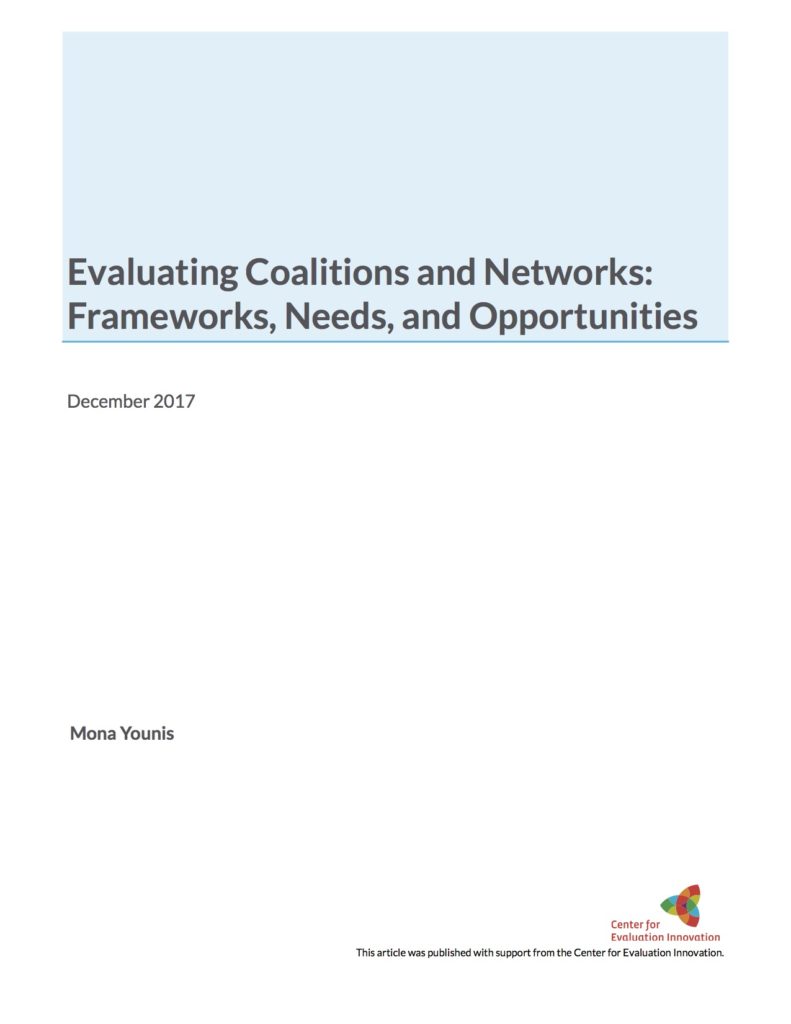 Evaluating Coalitions and Networks: frameworks, needs, and opportunities
Evaluators have developed an impressive array of approaches, frameworks, and tools to support both coalitions/networks and their funders. The report explores these developments, and points to challenges and opportunities that remain in efforts to assess the effectiveness and impact of coalitions/networks.
This review is for coalitions and networks that are considering embarking on evaluation. It begins with what makes coalitions and networks different from standalone organizations, and the implications for evaluation. It then reviews five selected evaluation frameworks, highlighting their advantages, limitations, and applicability. Finally, it offers a set of lessons and opportunities related to coalition/network evaluation based on real-life experiences, along with insights for funders on how best to support evaluation of the coalitions/networks they support.
---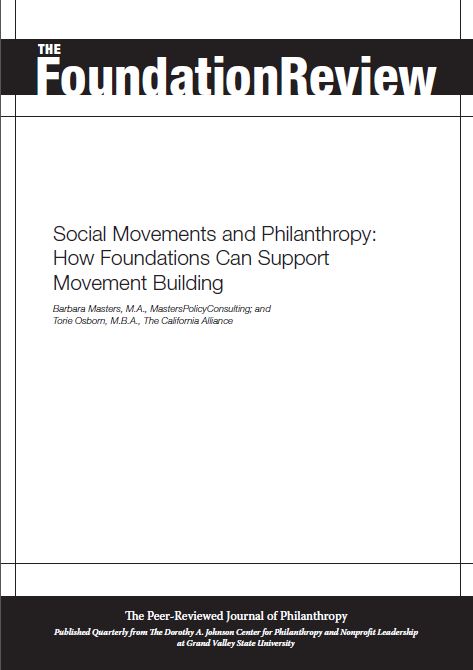 Social Movements and Philanthropy: How Foundations Can Support Movement Building
On page 17 of this report, social service organizations are identified as places that have not been organized to contribute to social change efforts. The author cites the Building Movement Project's Social Service and Social Change: A Process Guide (http://www.buildingmovement.org/blog/entry/22?news/entry/22) as a tool to increase engagement as well as noting other strategies for recruitment.
---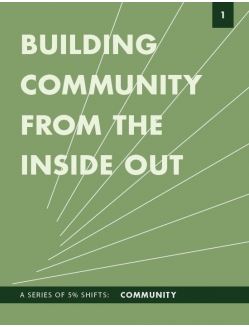 Building Community from the Inside Out
This report includes two case studies of community building efforts by nonprofit organizations in Detroit and New York City. The two cases profiled here focus on staff and clients, but organizations around the country are innovating to build a sense of community with volunteers and boards as well. Organizations who find inspiration in these examples and new insights from the tools and discussion questions are encouraged to find and develop their own practices.
---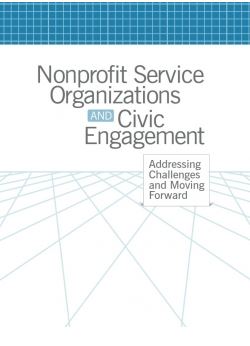 ---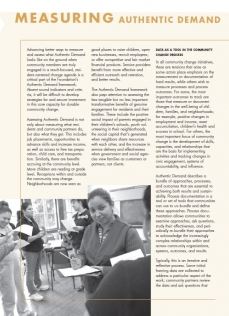 Measuring Authentic Demand
This excerpt on pages 16 to 25 from the Annie E. Casey Foundation's "Sustaining Neighborhood Change" report highlights the importance of data as a tool in the community change process. It also outlines a process for developing a data collection and analysis plan that aligns with the Authentic Demand framework described in the full report. (The report Sustaining Neighborhood Change: The Power of Resident Leadership, Social Networks, and Community Mobilization developed through the Making Connections Initiative of the Annie E. Casey Foundation).
---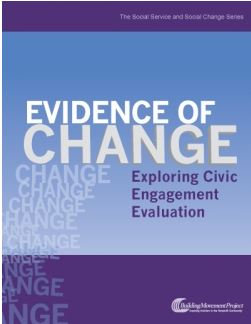 Evidence of Change: Exploring Civic Engagement Evaluation
Building Movement, the Alliance and the Ms.Foundation were all part of the W.K. Kellogg Foundation's Civic Engagement Learning Year
in 2008. As part of the project, groups who formed partnerships were eligible for small Connect Grants. The three groups received a grant to hold a summit with practitioners, researchers, intermediaries and funders to look at civic engagement impact measurement and dialogue with other organizations.
This report presents a brief summary of the key findings that came out of the Civic Engagement Evaluation Summit. It also examines how organizations currently view their relationship with impact measurement. It then ends with a set of recommendations for how to increase the nonprofit sector's capacity to respond to the increasing need for tools to measure the impact of civic engagement and social change work.
---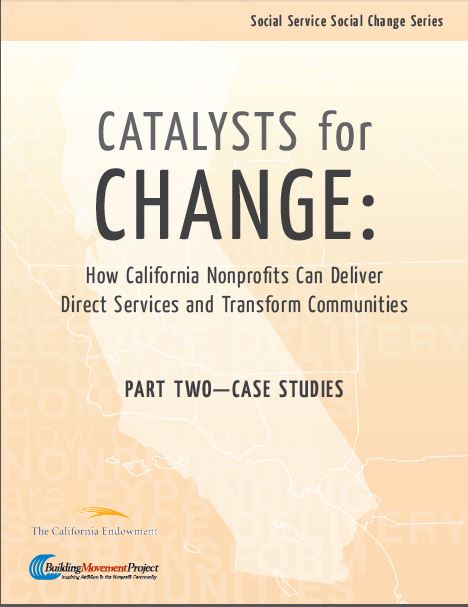 Catalysts for Change
In 2009, the California Endowment and the Building Movement Project surveyed more than 450 California nonprofit service providers about their methods used to integrate social change activities into their work. Five main themes emerged from the survey results, as well as several case studies. These themes offer insights into what service providers can focus on in order to increase their capacity to engage in social change activities.
---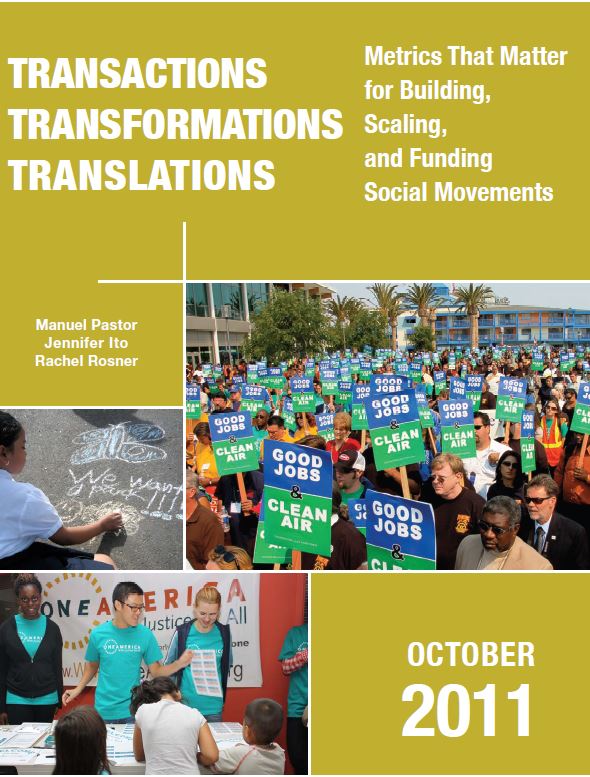 Transactions, Transformations, Translations
"Transactions, Transformations, Translations: Metrics That 
Matter for Building, Scaling, and Funding Social Movements" is a way of looking at organizational growth and the alliance building that brings groups together. This evaluation approach can capture the importance of narrative and numbers, of politics and policies, of transformation as well as transaction.
---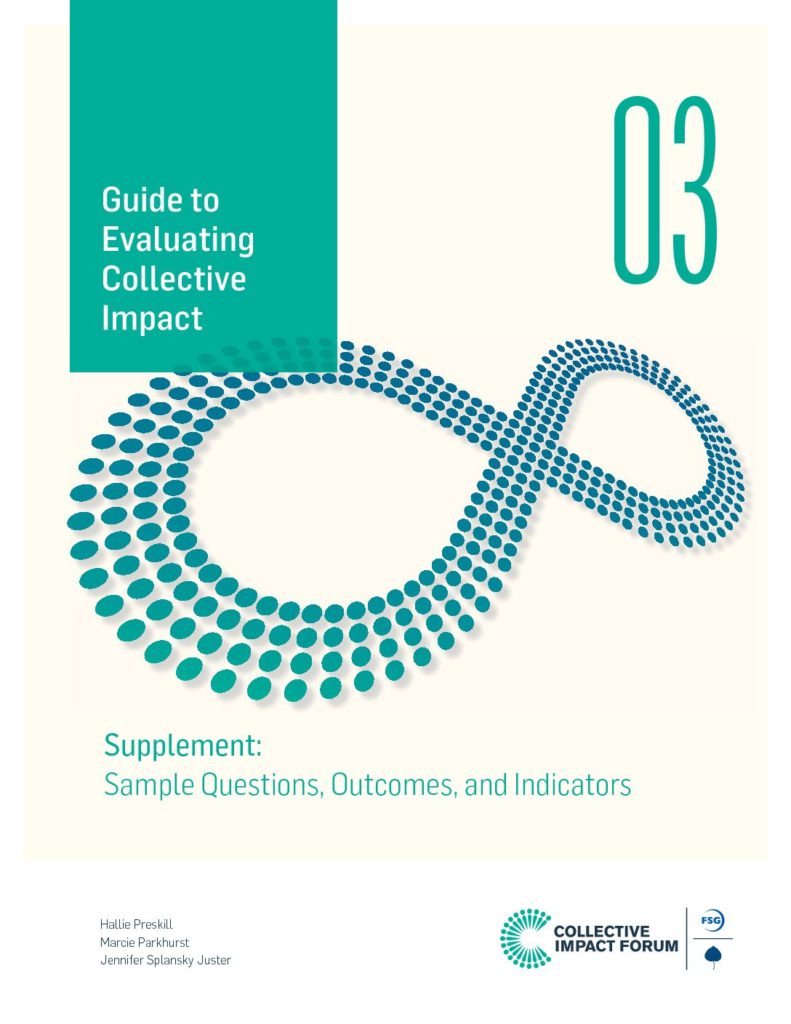 Guide to Evaluating Collective Impact
Follow this link to find the "Guide to Evaluating Collective Impact" report and a supplement with sample questions, outcomes, and indicators. Accessing this resource requires you to join FSG, which is free, and which we recommend.
---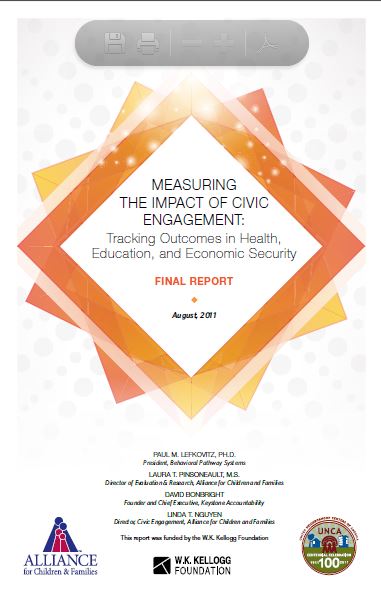 Measuring the Impact of Civic Engagement
This report provides an overview of a process to develop tools to measure the impact of civic engagement practices in human services. The Civic Engagement Measurements System (CEMS) is an inter-related set of tools that are believed to represent a promising new approach to the measurement of outcomes and impacts of civic engagement.
---